To produce a reed we need the following exact information:

*Length

*Height

*Dent Count

Orders can be placed in whichever unit of measurement you are knowledgeable: kujira, kane, centimeter, or inch.


Kujira Units
1shaku = 37.85cm 1sun = 3.785cm 1bu = 0.3785cm

Kane Units
1shaku = 30.3cm 1sun = 3.03cm 1bu=0.303cm

Inch Units
1inch = 2.54cm

Orders will be take about 2 weeks for production. We make each reed individually per order. Because of this, we appreciate your understanding about the time necessary to process your order.




[functional] functional width = The length used for threading.
[actual] actual width = The entire length including the metal barriers on each end.

The metal barriers on each end are collectively about 3cm.
The metal barriers on each end will vary slightly depending on the density of the dents. For that reason, when placing your order, please allow a flexibility of around 3mm in your measurements.

Please place your order based on the total outer height.
*We do not process orders based on inner height.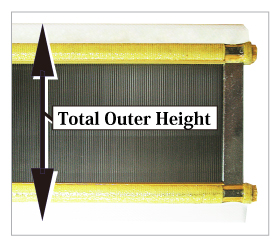 [Total Outer Height]…This is a total measurement of the reed from the top to bottom. The total outer height can be made anywhere from 8cm to 12cm at intervals of 5mm.

[Example Dent Count]
10 dents per 1cm・・This means that there will be 10 dents for every 1cm of length.
10 dents per kujira 1sun・・This means that there will be 10 dents for every 1sun (about 3.78 cm using the kujira unit system).

[Example Order]
[reed - 10 dents per 1cm, width - 50cm (functional), full outer height - 8cm] * 1
¥8,500 (total dents - 500)
*The actual width for this reed would be 53cm.
Price tags do not include 8% sales tax.